#FridayFunFacts - Motorsport Edition
If you like motor sport then good news, this week's edition will tickle your fancy!

British Racing Green is a traditional and popular colour for British sports cars.
By why is that?
'BRG' as it's affectionately known by car nerds gets its name from the earliest days of motor racing. Prior to commercial sponsorship entering the sport, drivers used to race in their country colours.
Blue signified France, red was for Italy, white covered the German cars and the Prince of Siam drove in blue and yellow. The Jaguars, Aston Martins and Bentleys were, of course, in green - British Racing Green.
Interestingly, the white of Germany soon became the silver of Germany as their crafty engineers realised that paint adds precious kilograms on a racing car. By polishing the bare metal they created a lighter, faster racing car. This is why the current Mercedes-Benz Formula One team is often referred to as 'The Silver Arrows.'
Tobacco and alcohol brands began sponsoring Formula One and other categories of motorsport in the 60s. Some of the most famous liveries include the red and white of Marlboro cigarettes, and the red, blue and white strips of Martini. Allegedly, Marlboro's influence on the sport were so deep that even the red and white checker markings on the edge of corners were designed as a subliminal reminder of the brand.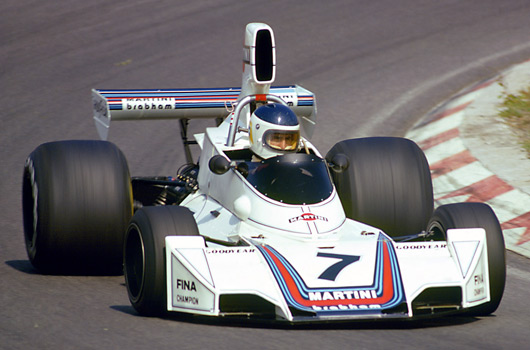 A UK 'gentlemans' magazine Penthouse even got in on the action at one stage and covered the car in a Rizla paper co-branded sponsored lady draped over the vehicle.
Formula One offers a fairly unique sponsorship opportunity for brands. It's global, runs for nine months of the year, operates over a four day weekend and attracts a broad demographic. It's arguably the fastest way to grow a global brand and explains why Marlboro, Red Bull, Vodafone, Tommy Hilfiger, Shell and many other companies have jumped on board the F1 bandwagon.